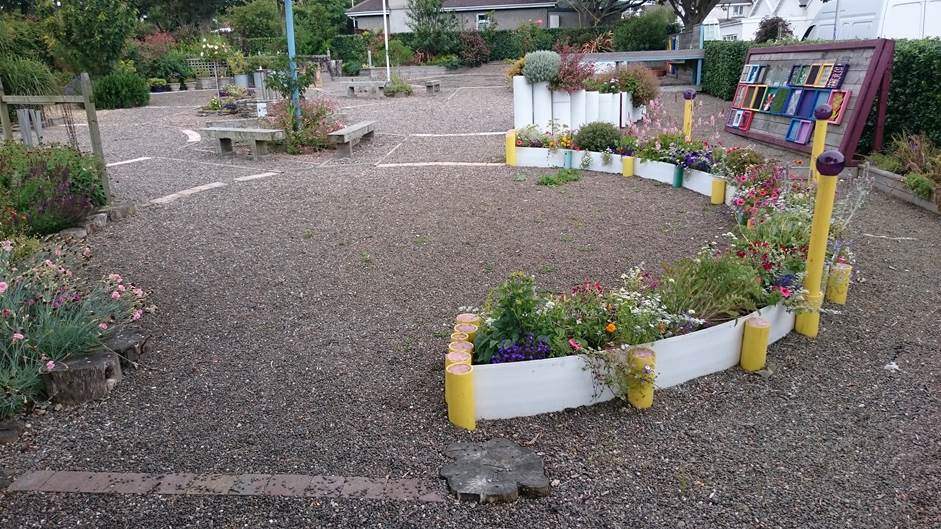 Onchan District Commissioners are very appreciative to the staff from the Client Screening Team at Barclays Bank for 'making a difference' in the Jubilee Garden at Onchan Park recently.
The team spent 2 days working in the garden removing the stones in preparation for the new path to be laid, fixing the plastic honeycomb base layer, relaying the stones, clearing the areas for the astroturf circles, in filled the path, sanding and painting the woodwork and circle.
The Chief Executive of Onchan District Commissioners, Mr Malcolm Hulme said "The Jubilee Garden is a very important area for the community, as it is a place for children and adults alike to explore nature using their 5 senses. Sadly the Garden was no longer accessible to everyone as the stone paths were becoming an issue for wheelchair users. We are most grateful to the Client Screening Team for choosing this project to support through their Community make a difference day. The Garden is now a bright, cheery and easily accessible space for the whole community to enjoy".
Caroline Dawdry from Barclays Bank explained "Barclays is committed to helping out in the community and we feel privileged to have been allowed to help out with the regeneration of the sensory garden. It is a wonderful asset that children and adults from all over the Island can benefit. The essentials were there, if a little tired looking, and with the weather firmly on our side we had an amazing couple of days helping revitalise the garden".
Onchan District Commissioners would also like to thank the children at Anagh Coar Primary School, Braddan Primary School and Laxey Primary School for designing and making some of the ingenious sensory boxes that are now on display in the Jubilee Garden.
Pictures of the 2 teams from Barclays with Chairman for Onchan District Commissioners Mr Robin Turton and Vice Chairman for Onchan District Commissioners Mr Derek Crellin and some before, during and after photographs can be found on the Onchan District Commissioners Flickr page by clicking the link below. 
https://www.flickr.com/photos/88093414@N03/albums/72157670911789856