The Hub - Onchan's Youth & Community Centre is located on School Road in Onchan and can be found opposite Onchan School. The Hub has ample car parking, level access entrances to both upper and lower floors, and toilet facilities which are accessible from all rooms.
Free high-speed Wi-Fi is available for all users of The Hub.  If you would like to visit The Hub to view the layout and facilities available prior to booking please contact us to arrange a convenient time or check out the 360o photos of the Hub on our Facebook page.
Please click the below link to our booking calendar to view our availability.
---
ROOMS AVAILABLE TO HIRE
FUNCTION HUB
A large, modern function room measuring 13.1m x 6.2m giving a 81.22m2 area suitable for a wide range of activities and functions.  Equipped with Bluetooth connected ceiling mounted speakers and kitchenette area which consists of sink, preparation area and fridge, the Function Hub is ideally suited to children's Birthday parties, fitness classes and other gatherings of up to 60 people.
The Function Hub also has a bi-fold sliding door which connects into the Meeting Hub for larger events should additional space be required.
Approximately 80 chairs and 12 fold-up tables are available for you to use within this room and they can be found in the Store Room located in the main corridor. We request any chairs or tables are returned back to the Store Room should they be used during your booking.
Contact us to become a regular hirer of the Function Hub and find out about our special rates.
-   -   -   -   -   -   -   -   -   -   -   -   -   -   -   -
MEETING HUB
The Meeting Hub is a fresh and spacious meeting room giving an area of 69.02m2 which is suitable for meetings, conferences, presentations and training for up to 24 people depending on table layout - Ideal to get out of the hustle of the office for those important business meetings.
The room is primarily laid out with conference style seating which can also be rearranged into classroom style seating to make the most of the facilities available which consist of a large whiteboard, flipchart, ceiling mounted projector and speakers, mic input and a mobile lectern.  
The Meeting Hub is also connected to the Function Hub via a bi-fold sliding door which can be opened for larger events and the tables and chairs can be moved for additional space.
The Meeting Hub also incorporates a kitchenette area which consists of sink, preparation area and fridge along with glasses and mugs for you to use. 
Get in touch with us about becoming a regular hirer of the Meeting Hub and find out about our special rates to see what The Hub can do for you and your business.
-   -   -   -   -   -   -   -   -   -   -   -   -   -   -   -
SPORTS HUB
The Sports Hub is a vast 11m x 22m hall laid with a timber floor and markings for Badminton, Indoor Football, Basketball, Volleyball and Archery.
Best suited for sporting activities and club training or for those larger exercise classes looking for somewhere bigger than our Function Hub.
The Sports Hub can accommodate up to 120 people at any one time, however please note that suitable footwear should be worn at all times to avoid damage to the flooring.  Please also be aware that food or drink is not permitted within the hall.
Ask us about our special rates available for regular bookings and see what we can do for you and your club!
BOOKING INFORMATION: 

Use of The Hub is restricted to the rooms you have hired and vacant rooms should not be used without prior written permission. 

Access to the rooms hired is strictly limited to the period you have booked and this period should not be extended without prior written permission.  Any setting up or clearing away for the purpose of hire should take place within the times you have booked. 

Any use of additional rooms or extension of the hire period may be subject to additional charges and constitutes a breach of the Term's & Conditions of Hire.


The Hub is a No Smoking and No Alcohol venue.
---
FACILITIES AND FEATURES

KITCHENETTE AREA
A kitchenette area is available for you to use in the Function Hub and Meeting Hub which can be neatly hidden away behind double doors when not in use.
Each area consists of a sink, preparation area, fridge and cupboards. Each kitchenette area also contains the controls for the Bluetooth ceiling mounted speakers and mixer controls. Further information on how to use these facilities can be found in each room.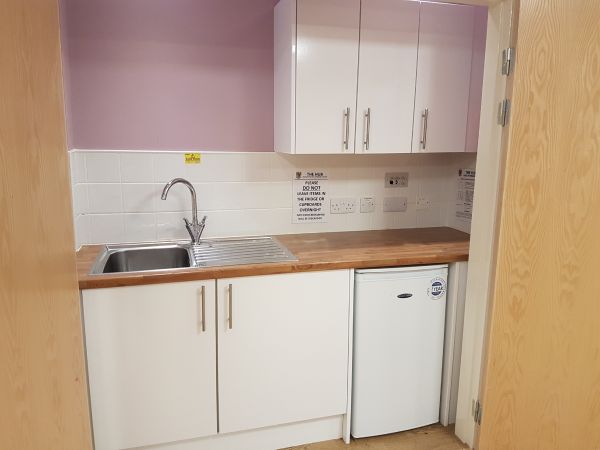 CEILING SPEAKERS & TEMPERATURE CONTROL
Each room contains ceiling mounted speakers which can be connected wirelessly to your device via Bluetooth.  There are also mixer controls and other inputs available such as RCA, 3.5mm jack and XLR3F mic.  Detailed instructions on how to use these controls are located within each room.
Temperature control is available for your room by a state of the art touch screen control to increase or decrease the heating within your area.  Further information on controlling the temperature for your hire can be found within each room.
BI-FOLDING DOOR
If you're looking for somewhere to hire for a larger event of up to 120 people, and wish to combine the Function Hub and Meeting Hub, the large bi-folding door dividing both rooms can be folded back to combine both rooms and provide a larger space.  A charge of £10 for opening and £10 for closing the bi-folding door at either end of your booking will be applied. Please ensure this dropdown is selected when making your booking.
---
HIRE CHARGES
The hire charges shown below are payable for each full hour or part hour which has been requested.  Where a booking is requested for any part hour period, the full charge per hour will be due (eg if a booking time of 1hr 30mins has been requested, a booking charge equivalent to 2 hours booking will be due and payable).  Reductions are not made should the whole period booked not be used in full.  
Any preparation or clearing away for the purpose of the hire should be completed within the times you have booked.  Additionally, the duration of the period booked should not be extended without the prior written approval from Onchan District Commissioners.
Hirers found to be exploiting these conditions may be charged an additional hire charge and may be refused future bookings. Hire of any room does not guarantee exclusive use of the 'The Hub' and hirers are requested to be mindful of other individuals who may have hired other rooms within the centre.
| | | | |
| --- | --- | --- | --- |
| Room | Resident and              Not-for Profit/Community Hire Charge |        | Corporate Hire Charge  |
| Function Hub | £18 per hour | | £20 per hour |
| Meeting Hub | £20 per hour | | £28 per hour |
| Sports Hub | £20 per hour plus VAT (where applicable) | | £24 per hour plus VAT (where applicable) |
Resident & not-for-profit/community hire
20% discount to be given for one off multi room hire (eg for parties where more than one room is hired).
20% discount to be given for regular hirers (over 10 hours per month)
Corporate hire
20% discount to be given for regular hirers (over 10 hours per month)
Contact Us:
Please contact us for further information if you would like to book more than one room or become a regular user of The Hub.
---
BOOKINGS
Bookings can now be made via our online booking facility, Hallmaster, which can be accessed below:
You are now able to check availability of a room and request a booking without the need to contact us directly, please note however you will be required to set up an account in order to request a booking. 
Click on the above link to our BOOKING CALENDAR and select a date which you would like to book.  Any existing bookings for that day will be shown.  To request a specific time which is available, click on the + found in the top right corner of the day and follow the instructions on screen to sign up and request a booking.  
Bookings are not confirmed until payment has been received in full and payment can be made via our pay-online section of our website.  When paying online, please enter your 'Customer Name' and 'Booking Name' as entered when making the booking request.
Once the request has been approved and payment has been received you will be sent an email confirming your booking for the date and time requested.  If there are any problems with your booking request or we are unable to accommodate your booking for the period you require we will contact you to let you know and to make alternative arrangements if possible.
If you experience any difficulties in requesting a booking or would like further information on how to use the online system please get in touch.
'The Hub' is an unmanned venue therefore the keys to access 'The Hub' for your booking must be obtained from the main reception at the Commissioners' Office and signed for by the hirer or their representative by 16:30 on the day of hire unless otherwise agreed. Where the booking is on a weekend or public bank holiday the keys must be collected before 16:30 on the last working day prior to the booking.
Keys must be returned to the Commissioners' Office following your booking and failure to collect the keys may result in the loss of your booking.
Please note The Hub is monitored by 24hr CCTV for your safety.  Please contact Onchan District Commissioners if you require further information regarding the recording of images during your hire of the Hub.